📝 Datasheet
ONE-TO-ONE
From person to person
ONE-TO-GROUP
From person to a group of people with one or more characteristics in common.
Recipient
Attendee in a previous meeting
A person who, although have not attended a meeting, needs to be informed of its content.
Mission
Remove the uncertainty that can be caused by misinterpretation of the key points during a meeting
Promote an environment of closeness and affiliation.
Follow these four steps
and you can do it too!
1
Create MoonBack
Click play and discover the content of each of the sections that we recommend you to include in your MoonBack.
Example 1
Ale and Ugo, these are the key points of yesterday's meeting...
Example 2
Friends, the key conclusions of yesterday's meeting in less than 83 seconds!
MAKE IT PERSONAL
Include your recipient's name and other personal references.
Let it show that it's something you've prepared exclusively for that person.
MAKE IT AMAZING
Don't tell in your message what you already explain in your MoonBack.
Add some intrigue and the chances of your MoonBack being played will increase.
MAKE IT USEFUL
Paste one or more links if you need more information.
Whether it's a website, a video or a document... MoonBack detects and converts countless links and third-party services into action buttons for you.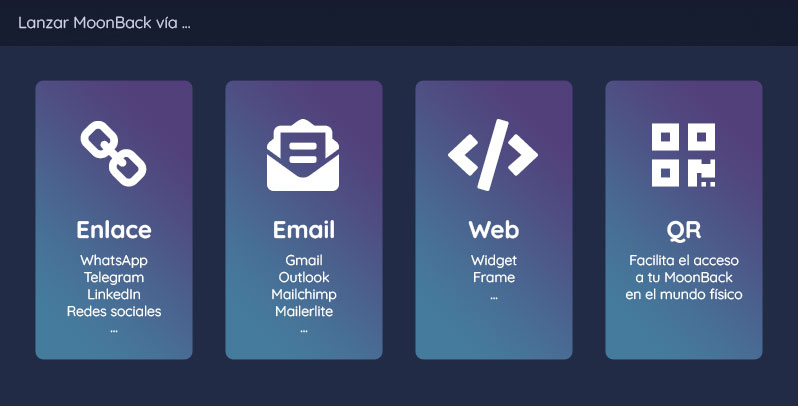 CHANNELS
Avoid using the e-mail
You will achieve better results using channels such as:

In your website via Smart Dock
WHEN
After the meeting even in the form of a QR
Keep in mind that you can export your MoonBack to a QR code and include it in a document or any printed material. In this way, in addition to the information, they will be able to listen to you highlighting the key points and giving it your personal touch.
3
Everything under control
NOTICE
Push notifications, e-mail and activity log
Forget about reloading or actively tracking. You will be instantly notified whenever your recipient interacts with your MoonBack.
SEARCH
As effective as a memo but much more personal
Thanks to our transcription system you will be able to search for words in your MoonBacks. Each result will take you to the exact point in the MoonBack where you use that keyword or phrase.
You will summarize in record time the content, conclusions and rewards of a meeting.
😮
Removing confusions and misinterpretations.
😵
In a much more personal and closer way than with a memo, and without losing the text searches.
😲
Allowing you to take advantage of this communication to promote closeness and affiliation with the attendees.
Key Features
used in this use case
Reply without registration
We'd love to show you how to make an executive summary of a meeting
create a personal MoonBack for yourself..
Personal, not customized.
Show me with a MoonBack
Discover MoonBack in full with an Apollo accountbefore subscribing or switching to MERCURY for good.