📝 Technical data
ONE-TO-ONE
From person to person
ONE-TO-GROUP
From person to a group of persons with one or more characteristics in common
Mission
Promote an environment of closeness and affiliation from day one
Increase third-party recognition of your recipient.
Follow these four steps
and you can do it too
1
Record a MoonBack
Press play and discover the content of each of the sections that we recommend you to include in your MoonBack.
💬
Message and Smart Actions
Example 1
Luis, starting today you are a MoonBacker. Let's go get those WOWs!
Welcome manual
Example 2
Luis, for your first day I have something better than a coffee mug...
MAKE IT PERSONAL
Include the name of your recipient and other personal references.
Show that it is something you have prepared exclusively for that person.
MAKE IT AMAZING
Don't tell in your message what you already explain in your MoonBack.
Add some interest and the chances that your MoonBack will be reproduced will increase.
MAKE IT USEFUL
Paste links to welcome videos or documents in the message.
They will automatically become action buttons and will help you make the most of this first meeting.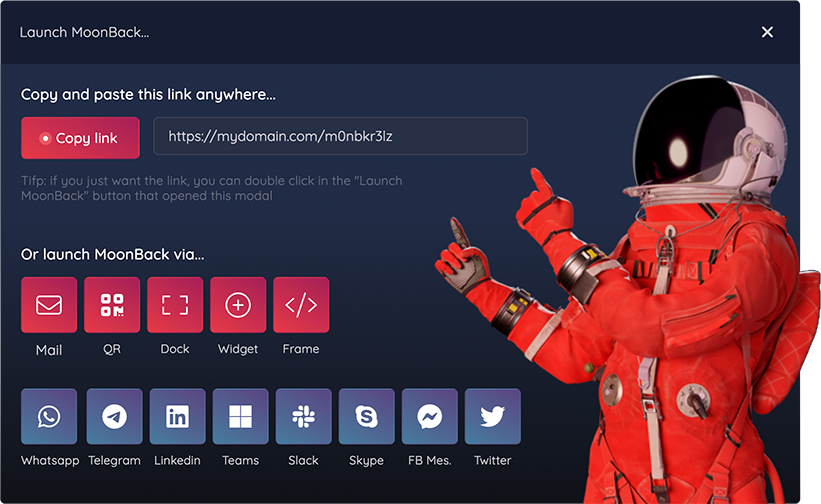 CHANNELS
Better via corporate messaging services
You will get better results using:

In your website via Smart Dock
WHEN
On its first day
If you get ahead of other people welcome messages, great but don't get obsessed. Welcoming with a MoonBack will make you different and memorable.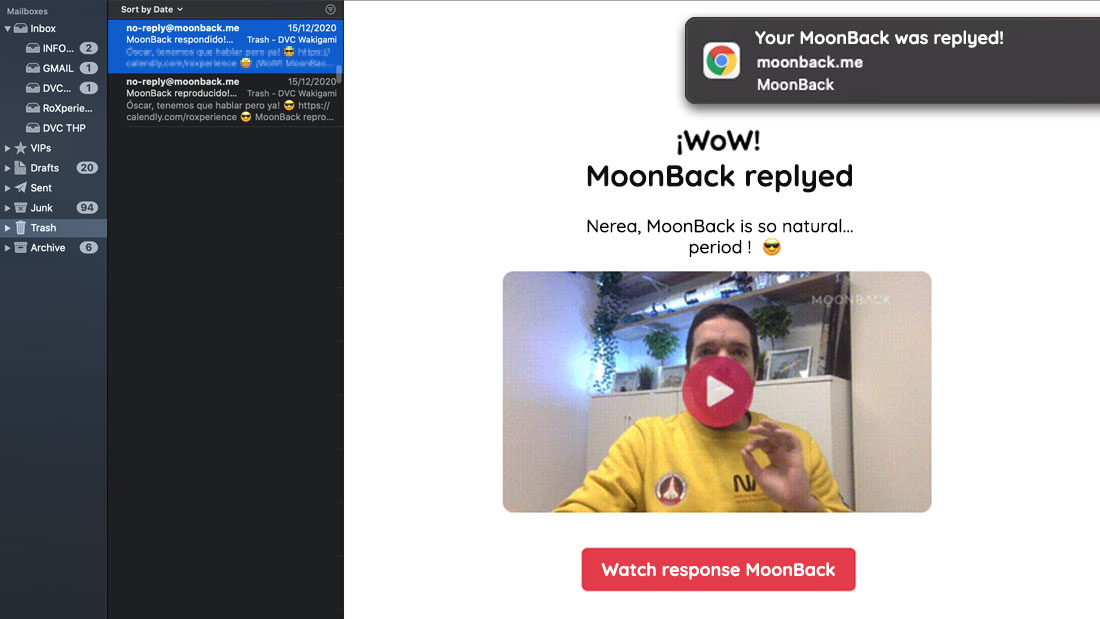 NOTICE
Push notifications, e-mail and activity log
Forget about reloading or actively tracking. You will be instantly notified whenever your recipient interacts with your MoonBack.
ADVISE
It all counts...
"Especially when we talk about culture and a sense of belonging. Imagine the possibilities of this MoonBack being re-sent to third parties. It will become the best letter of introduction for those who do not yet know your organization."
You will welcome those who matter most to you as they deserve.
😲
Boosting your target's affiliation and recognition.
😮
Turning an epic moment into an opportunity to leave a different and memorable mark.
😵
Generating a viral effect that will reach much further than you expect.
Key features
used for this example
Reply without registration
Skyrocket your
engagament now!
Try MoonBack now!
Discover MoonBack full experience with Apollo subscription
before subscribing or switching to MERCURY for free forever.