📝 Technical data
ONE-TO-ONE
From person to person
ONE-TO-GROUP
From person to a group of persons with one or more characteristics in common
Target
Someone whose opinion you need in order to make a decision.
Mission
Reduce as much as possible the time and bureaucracy associated with data collection, voting or decision making processes
Boost the sense of belonging and acknowledgment
Follow these four steps
and you can do it too
1
Record a MoonBack
Press play and discover the content of each of the sections that we recommend you to include in your MoonBack.
💬
Message and Smart Actions
Example 1
David, I need your vote. The time has come to decide on how to approach the project.
Example 2
Friends, let's decide together how we approach the project, shall we vote?
MAKE IT PERSONAL
Include the name of your recipient and other personal references.
Show that it is something you have prepared exclusively for that person.
MAKE IT AMAZING
Don't tell in your message what you already explain in your MoonBack.
Add some interest and the chances that your MoonBack will be reproduced will increase.
MAKE IT USEFUL
Paste a link to a service like Doodle or similar.
MoonBack detects and converts countless third-party links and services into action buttons for you.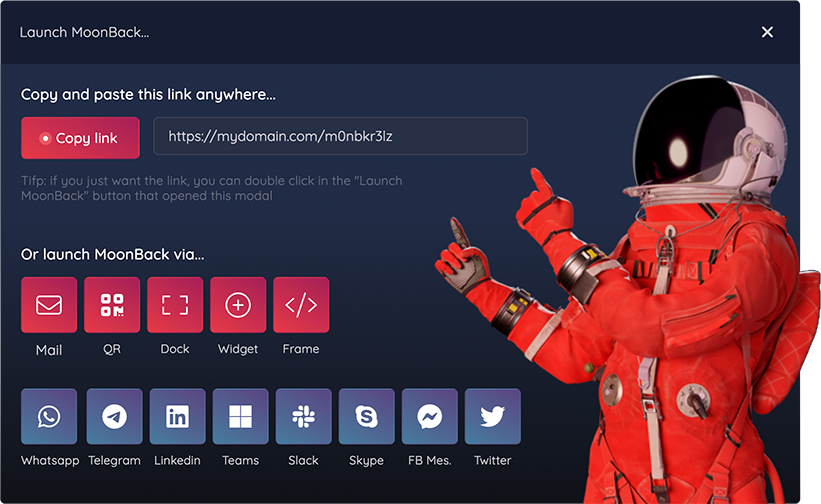 CHANNELS
Avoid using the e-mail
If they are professional decisions you will get better results using channels such as:

In your website via Smart Dock
WHEN
Batch work
Define a moment in your schedule and take advantage of it to create and launch your invitation MoonBacks. You will be much more efficient and avoid interrupting your work.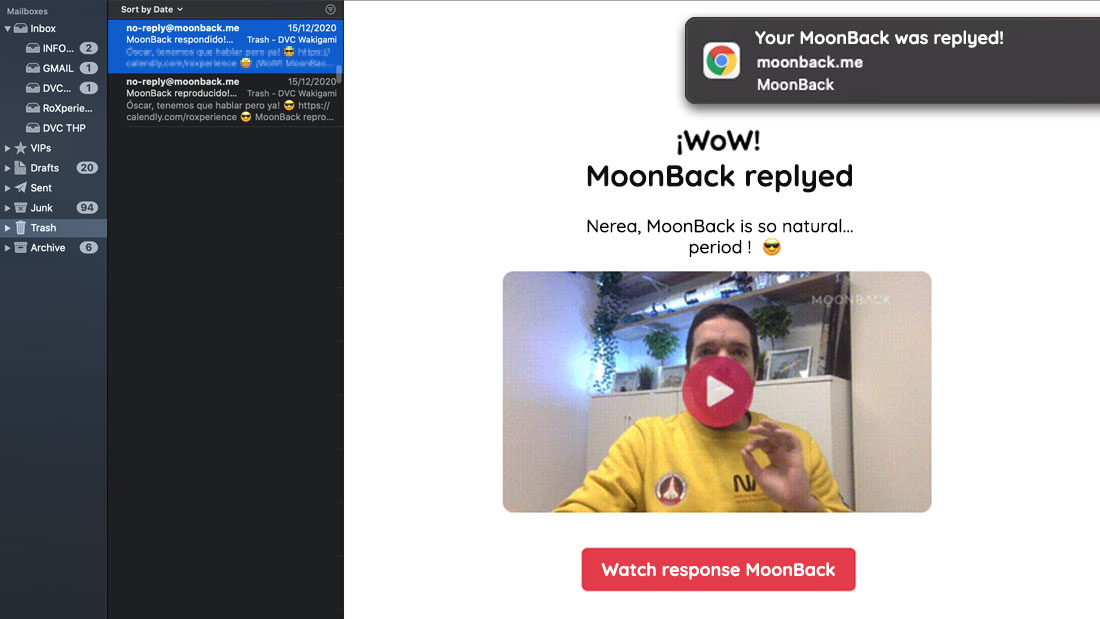 NOTICE
Push notifications, e-mail and activity log
Forget about reloading or actively tracking. You will be instantly notified whenever your recipient interacts with your MoonBack.
ADVISE
And if you don't get an answer
Create a new MoonBack as a reminder by referencing in the message even the previous one. Insist on the deadline for registration of votes.
You will collect votes and make decisions in a much more agile and efficient way.
😲
Boosting the participation of those who matter most to you.
😮
Boosting the sense of belonging and community.
😵
Removing confusions and misinterpretations.
Key features
used for this example
Reply without registration
Skyrocket your
engagament now!
Try MoonBack now!
Discover MoonBack full experience with Apollo subscription
before subscribing or switching to MERCURY for free forever.