📝 Technical data
ONE-TO-ONE
From person to person
ONE-TO-GROUP
From person to a group of persons with one or more characteristics in common
Target
Potential customer.
Customer
Teammate.
Fan.
Mission
Boost a sense of belonging and community
Encourage third parties' recognition by interacting at the same level with them.
Multiply the impact and visibility of your brand and proposal.
Follow these four steps
and you can do it too
1
Record a MoonBack
Press play and discover the content of each of the sections that we recommend you to include in your MoonBack.
💬
Message and Smart Actions
Example 1
You are the star in our next Q&A

SAVE THE DATE IN YOUR CALENDAR
Example 2
This is how we are going to reinvent the act of participating in an online event... and we are counting on you!
MAKE IT PERSONAL
Include the name of your recipient and other personal references.
Show that it is something you have prepared exclusively for that person.
MAKE IT AMAZING
Don't tell in your message what you already explain in your MoonBack.
Add some interest and the chances that your MoonBack will be reproduced will increase.
MAKE IT USEFUL
Paste links to external resources if needed.
MoonBack detects and converts countless third-party links and services into action buttons for you.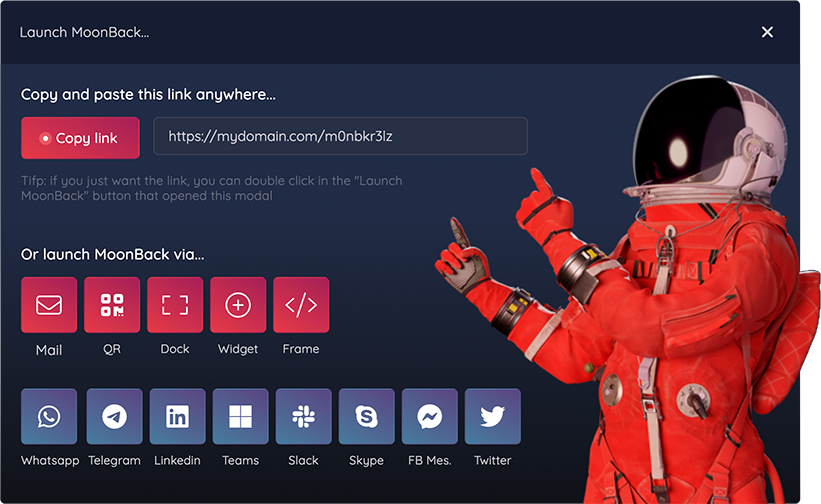 CHANNELS
Your audience's preference
The worst "anti wow" moment is asking a customer to interact with you through a channel that requires them to download or install an app they don't have. With MoonBack you can have them all because both your message and their responses will be 100% independent.

In your website via Smart Dock
WHEN
Before and during a specific event
If you give the possibility to ask questions before an event you will boost the visibility and impact of the event helping you to make it a success in terms of attendance and participation.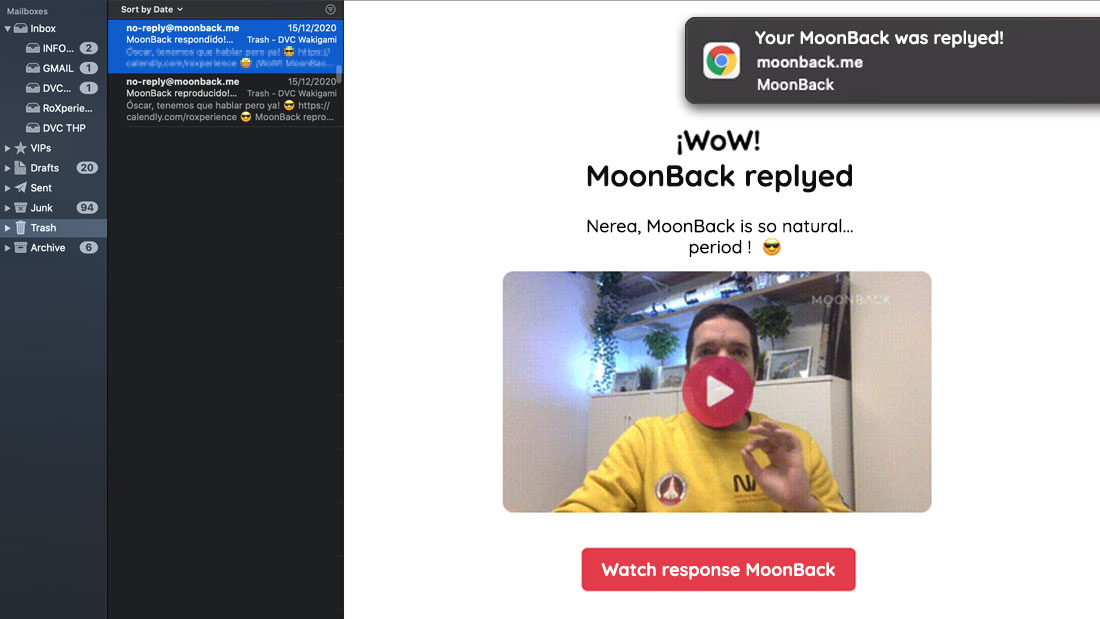 NOTICE
Push notifications, e-mail and activity log
Forget about reloading or actively tracking. You will be instantly notified whenever your recipient interacts with your MoonBack.
SMART VIEW
Much more than a chat
Thanks to our Smart View, you can easily embed the MoonBacks with the questions you have been asked on a giant screen or in a box while you are on the air. The possibilities are endless
You will turn a Q&A session into a wow moment!
😮
Developing a much more powerful and personal interaction model than a chat.
😲
Bolstering the visibility and impact of your session before, during, and after
😵
Boosting the sense of belonging and community.
Key features
used for this example
Reply without registration
Skyrocket your
engagament now!
Try MoonBack now!
Discover MoonBack full experience with Apollo subscription
before subscribing or switching to MERCURY for free forever.