📝 Technical data
ONE-TO-ONE
From person to person
Target
Aspiring employee you would like to count on.
Mission
Minimize the time and money invested in recruiting resources.
Maximize the possibilities of recruiting profiles of interest.
To promote a brand image aligned with human, personal and exclusive treatment.
Follow these four steps
and you can do it too
1
Record a MoonBack
Press play and discover the content of each of the sections that we recommend you to include in your MoonBack.
💬
Message and Smart Actions
Example 1
Imma, this is why we are (very) interested in your profile...
Example 2
Imma, this is what Luis, María and José told me that we need you in our team.
MAKE IT PERSONAL
Include the name of your recipient and other personal references.
Show that it is something you have prepared exclusively for that person.
MAKE IT AMAZING
Don't tell in your message what you already explain in your MoonBack.
Add some interest and the chances that your MoonBack will be reproduced will increase.
MAKE IT USEFUL
Enrich your message by making references to third parties.
They will help you gain credibility and will further demonstrate that this contact, that this application is not just another one.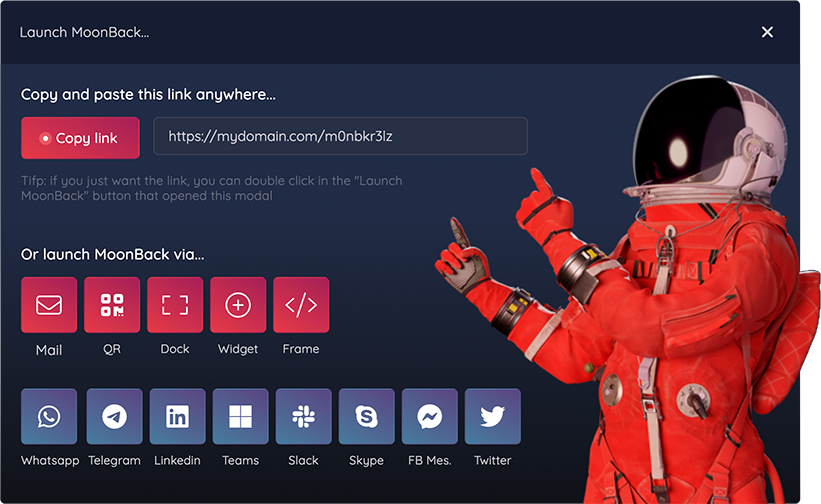 CHANNELS
LinkedIn
Don't give it a second thought. Today in recruitment and selection LinkedIn is the channel.

WHEN
MoonBack time and follow up!
Don't get complicated, any time is a good time to send your MoonBack. Just take advantage of the notifications and right after your MoonBack is seen send a "hello" or an emoticon in the chat. Your chances of starting a conversation will skyrocket.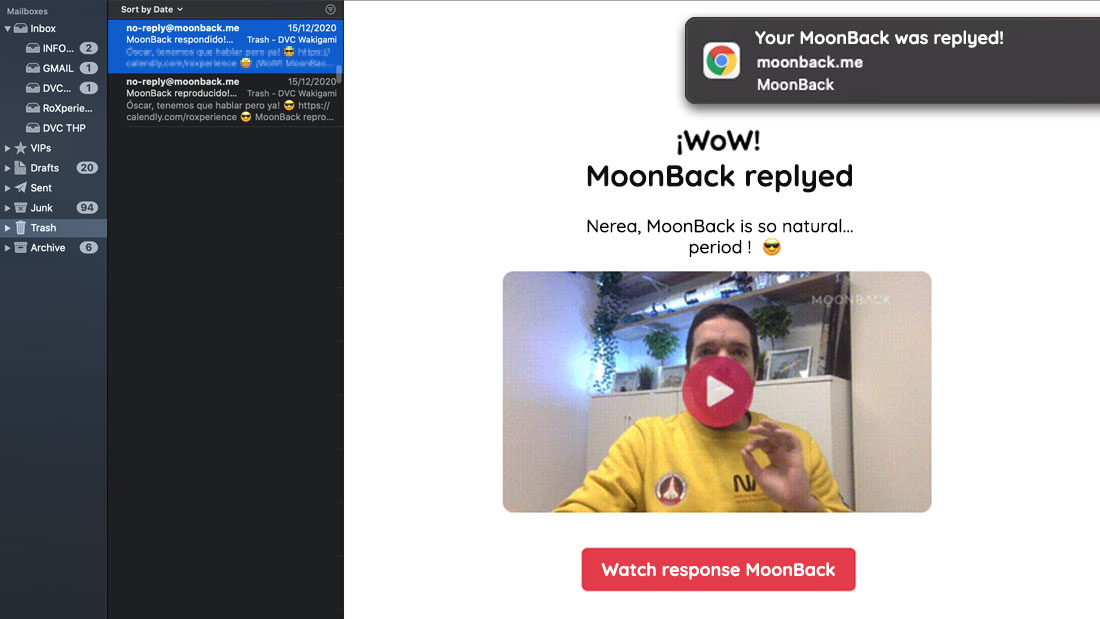 WE WARN YOU
Push notifications, mail and activity log
Forget about reloading or tracking. We'll instantly notify you whenever your recipient interacts with your MoonBack or when you get a response.
RESPONSE WITHOUT REGISTRATION
Response in the form of MoonBack
Call, whatsapp, email, linkedin or even with a reply MoonBack with no installations or registrations required. First and foremost let's connect and make a two-way communication.
You will multiply the success of your recruitment and employee attraction actions
😲
Minimizing the time and money spent on recruitment.
😮
Maximizing the chances of recruiting profiles of interest.
😵
Driving a brand image aligned with human, personal and exclusive treatment.
Key features
used for this example
Reply without registration
Skyrocket your
engagament now!
Try MoonBack now!
Discover MoonBack full experience with Apollo subscription
before subscribing or switching to MERCURY for free forever.