📝 Technical data
ONE-TO-ONE
From person to person
Target
A person who has had an incident with a product, service or experience and requests assistance or files a complaint.
Mission
Clear out doubts regarding the causes of the incident
Provide information on what actions will be or have been carried out.
Boost the sense of security and recognition of the person communicating an incident.
Follow these four steps
and you can do it too
1
Record a MoonBack
Press play and discover the content of each of the sections that we recommend you to include in your MoonBack.
💬
Message and Smart Actions
Example 1
Lucía, I'm Daniel from MoonBack and we won't stop until we solve your issue
FOLLOW US IN REAL TIME.
Example 2
Lucía, thanks to you, we have greatly improved our product
MAKE IT PERSONAL
Include the name of your recipient and other personal references.
Show that it is something you have prepared exclusively for that person.
MAKE IT AMAZING
Don't tell in your message what you already explain in your MoonBack.
Add some interest and the chances that your MoonBack will be reproduced will increase.
MAKE IT USEFUL
If you have it, paste a link in the message from which the incident can be followed in real-time.
MoonBack detects and converts many links and third-party services into action buttons for you.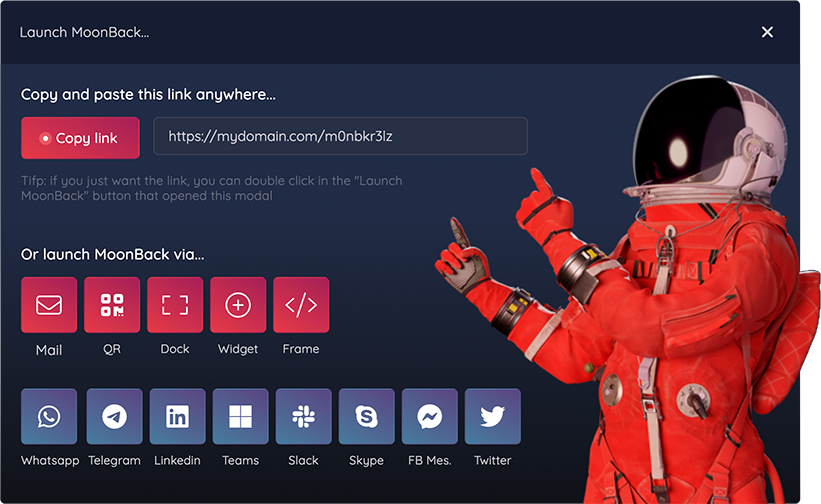 CHANNELS
Always the same as the one your recipient used to communicate the incident.
There is no more "anti wow" moment than asking a person to forward your issue through another channel. If he talks to you via Twitter, reply via Twitter. And no, it doesn't have to be by DM if he hasn't done it before.

WHEN
The sooner the better
Split the handling of the incident into several communications if you need to. But remember the golden rule: the sooner the better.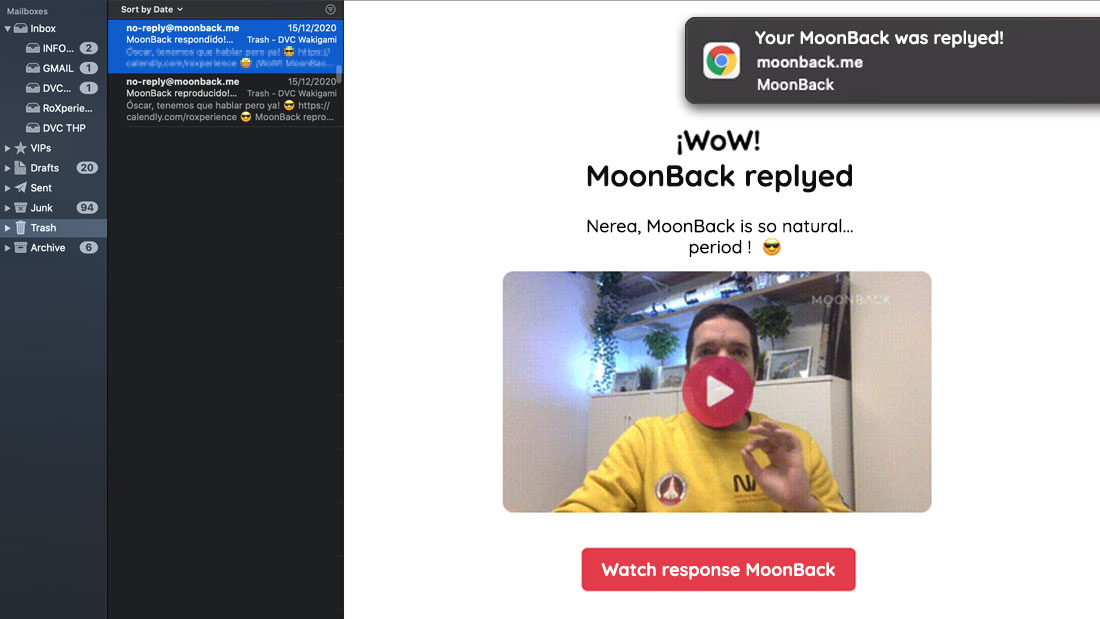 NOTICE
Push notifications, e-mail and activity log
Forget about reloading or actively tracking. You will be instantly notified whenever your recipient interacts with your MoonBack.
ADVISE
And if there's no access...
Re-launch your MoonBack through a different channel. If you use email it is possible that it may have gone unnoticed.
You will turn the treatment of an incident into a WOW moment.
😮
Boosting security and confidence from the first moment.
😲
"Providing clear and concise information via the same channel used by your recipient."
😵
Making them feel special and increasing their loyalty
Key features
used for this example
Reply without registration
Skyrocket your
engagament now!
Try MoonBack now!
Discover MoonBack full experience with Apollo subscription
before subscribing or switching to MERCURY for free forever.