📝 Technical data
ONE-TO-ONE
From person to person
ONE-TO-GROUP
From person to a group of persons with one or more characteristics in common
Target
Recipient to whom, due to your work relation or role inside a hierarchical structure, you are in a position to request a review on past events, and give your opinion on the matters
Mission
Avoid misinterpretation of written texts when sharing opinions.
Generate security and confidence by visually conveying your opinions.
Boost the affiliation and recognition of your recipients
Follow these four steps
and you can do it too
1
Record a MoonBack
Press play and discover the content of each of the sections that we recommend you to include in your MoonBack.
💬
Message and Smart Actions
Example 1
Nestor, I propose three keys points that will improve your next test results
Example 2
Nestor, good job! We can now do it even better!
MAKE IT PERSONAL
Include the name of your recipient and other personal references.
Show that it is something you have prepared exclusively for that person.
MAKE IT AMAZING
Don't tell in your message what you already explain in your MoonBack.
Add some interest and the chances that your MoonBack will be reproduced will increase.
MAKE IT USEFUL
Incorporates any support resources.
MoonBack detects and converts countless third-party links and services into action buttons.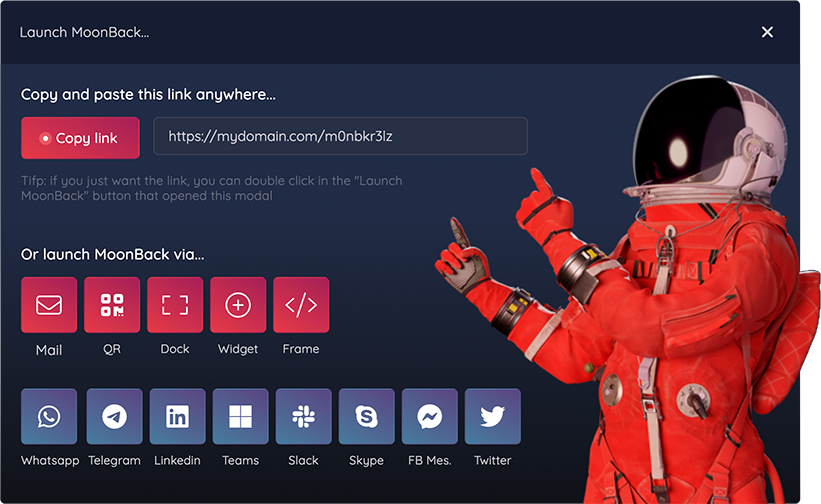 CHANNELS
Avoid using the e-mail
You will achieve better results using channels such as:

WHEN
Don't wait until the last day...
Don't delay any longer or you risk losing vital information.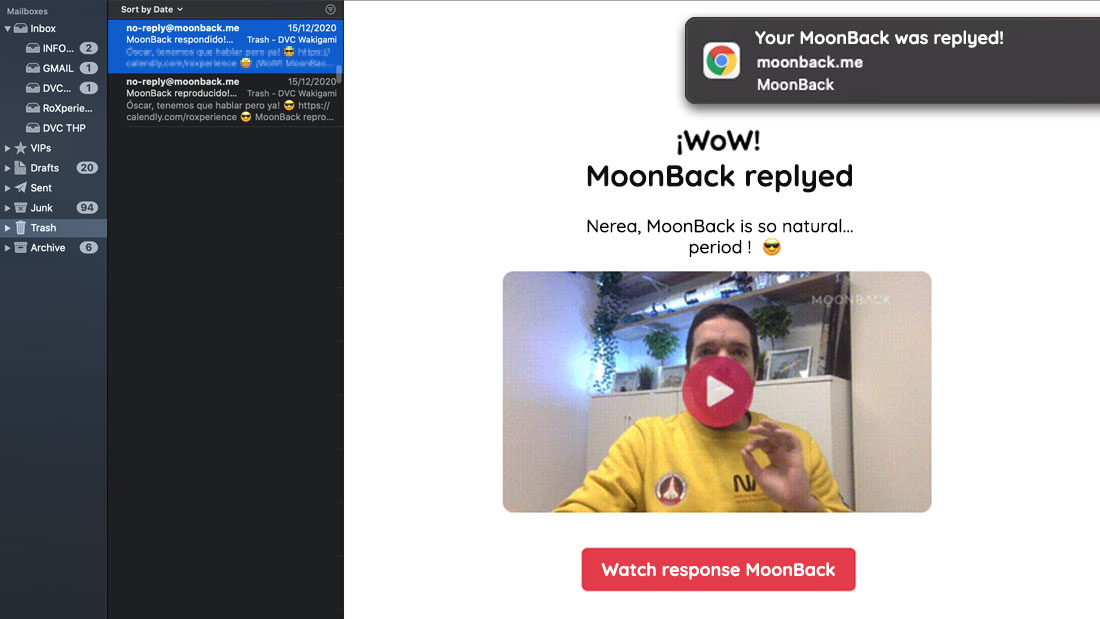 NOTICE
Push notifications, e-mail and activity log
Forget about reloading or actively tracking. You will be instantly notified whenever your recipient interacts with your MoonBack.
SMART VIEW
Reviews and opinions in one place...
If you wish, with MoonBack you will be able to give public access to the previous evaluations that have been made to you, and even let others react to them with emoticons and share them.
Conducting reviews and giving your opinion to third parties
😮
Avoiding misinterpretations and unnecessary conflicts.
😲
Boosting affiliation, self-recognition, and recognition of the participants.
😵
Without interruptions and promoting a delocalized relationship.
Key features
used for this example
Reply without registration
Skyrocket your
engagament now!
Try MoonBack now!
Discover MoonBack full experience with Apollo subscription
before subscribing or switching to MERCURY for free forever.