📝 Technical data
ONE-TO-ONE
From person to person
ONE-TO-GROUP
From person to a group of persons with one or more characteristics in common
Target
Friends, family or colleagues who purchased some of your products/services as a gift
People who are going to receive the gift
Mission
Facilitate that customers who purchase a product or service as a gift can accompany it with a MoonBack greeting.
Allow others to join in the congratulation replying the MoonBack with new ones.
Position your brand as a facilitator of that memorable experience.
Follow these four steps
and you can do it too
1
Record a MoonBack
Press play and discover the content of each of the sections that we recommend you to include in your MoonBack.
💬
Message and Smart Actions
Example 1
Emma & Mike, this is better than a greeting card 🥳
Example 2
🎂 Alex, We could not find a better way to wish you a happy birthday!
MAKE IT PERSONAL
Include the name of your recipient and other personal references.
Show that it is something you have prepared exclusively for that person.
MAKE IT AMAZING
Don't tell in your message what you already explain in your MoonBack.
Add some interest and the chances that your MoonBack will be reproduced will increase.
MAKE IT USEFUL
Smart Actions
Add any link in the short text message to include a virtual reference to your gift. Imagine to link a video, webpage, music...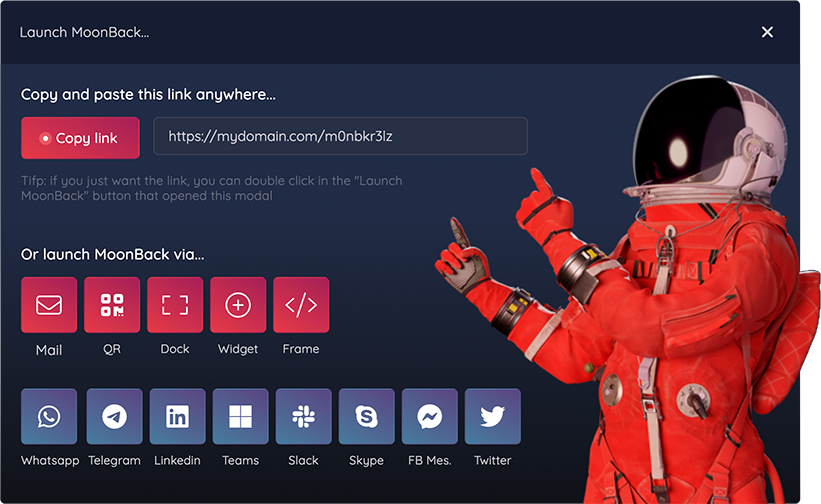 CHANNELS
QR code is the king
Launch your MoonBack through a QR code. Customize the message below. Print it out, and do nott forget to include it inside your gift. You can sign the back to make it even more personal.

WHEN
Share the greeting MoonBack with others
Before you give your MoonBack as a gift, you can share it with others who you would like to join in the celebration with their own MoonBack replies.
Link your brand to a memorable moment for your customers
😲
Building exclusive relationships with your customers.
😮
Spreading this experience to third parties.
😵
Driving a brand image aligned with personal and memorable treatment.
Key features
used for this example
Reply without registration
Skyrocket your
engagament now!
Try MoonBack now!
Discover MoonBack full experience with Apollo subscription
before subscribing or switching to MERCURY for free forever.