📝 Technical data
ONE-TO-ONE
From person to person
ONE-TO-GROUP
From person to a group of persons with one or more characteristics in common
Target
Customer.
Teammate.
Event attendee.
Community member.
Mission
To boost participation and content generation by third parties.
Multiply personal connection in a digital environment.
To trigger a sense of belonging and affiliation.
Follow these four steps
and you can do it too
1
Record a MoonBack
Press play and discover the content of each of the sections that we recommend you to include in your MoonBack.
💬
Message and Smart Actions
Example 1
Friends of Roche, Insight time! It's time to take our company to the next level!
Save the date
Example 2
How to multiply the impact of our contact requests.
14 Feb 2022 16h(Eng)
Sign up now
MAKE IT PERSONAL
Include the name of your recipient and other personal references.
Show that it is something you have prepared exclusively for that person.
MAKE IT AMAZING
Don't tell in your message what you already explain in your MoonBack.
Add some interest and the chances that your MoonBack will be reproduced will increase.
MAKE IT USEFUL
Enrich your message with calls to action.
MoonBack will convert countless links and third party services into a button for you. For example: links to register and access an event, download content, video summaries, evaluation forms...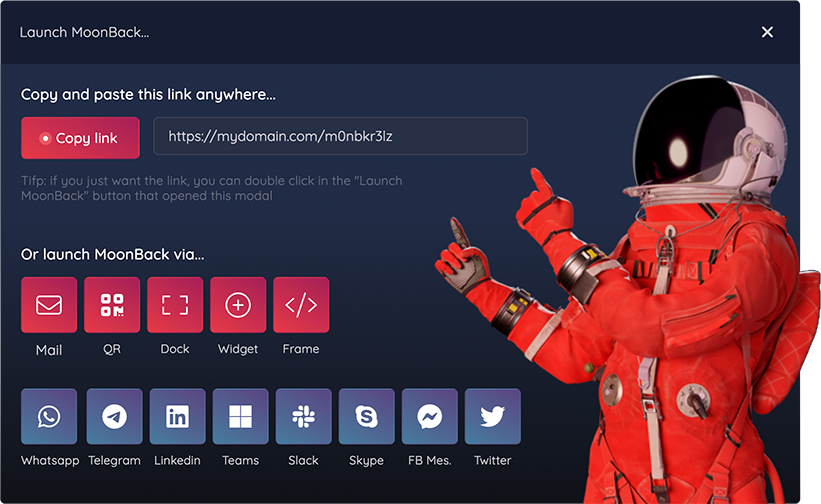 CHANNELS
Physical and Virtual
Launch your MoonBack digitally. Go for the channel preferred by each of your recipients: WhatsApp, Telegram, LinkedIn, Teams or Slack.
Surprise your recipients by giving access to your MoonBack with a QR code inside the documentation or in the agenda of an event

WHEN
Before, during and after
If it's an event, you can launch a MoonBack... before to publicize the event and collect questions, during to generate discussion and after as a thank you to attendees and speakers.
When the goal is to boost a community, look for the right frequency. Once a week may be ideal.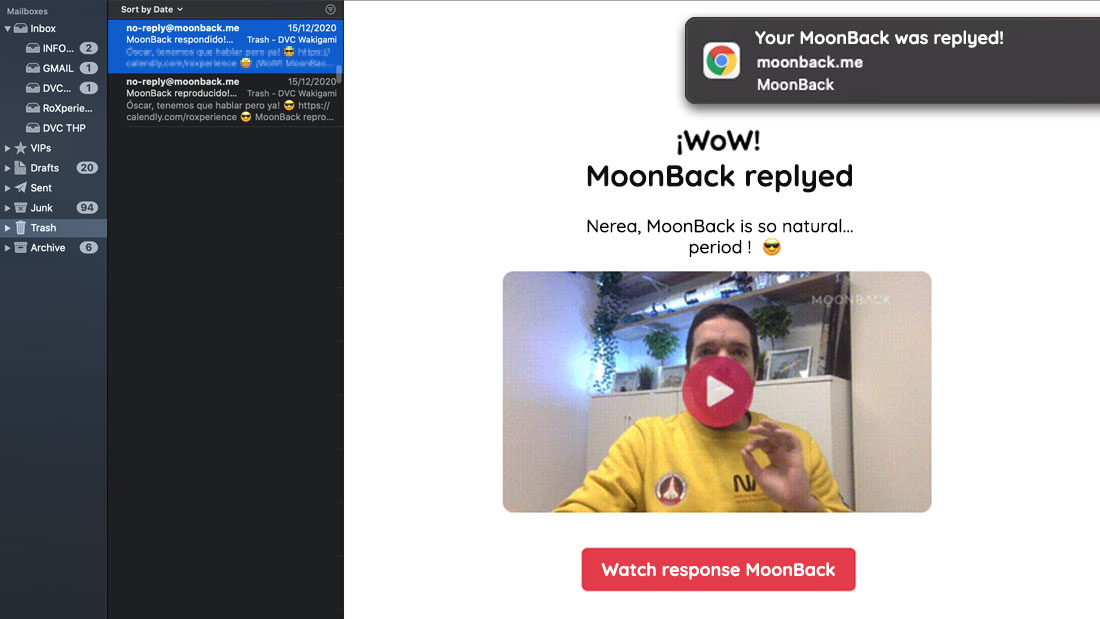 WE WARN YOU
Push notifications, mail and activity log
Forget about reloading or tracking. We'll instantly notify you whenever your recipient interacts with your MoonBack or when you get a response.
Remember that those who generate a response will also be able to receive push notifications whenever they choose to sign it.
SMART SHOW + LIVE!
All responses to your and others' MoonBack in one place...
Generate with one click a page with your MoonBack and all the answers that the participants of the event or the members of your community have made. You will be able to moderate them or even play them full screen on a big screen, during a video call or a live streaming broadcast.
You will multiply the impact of an event and your community
😲
Encouraging participation and content generation (UGC)
😮
Multiplying personal connection in delocalized environments.
😵
Maximizing affiliation and sense of belonging.
Key features
used for this example
Reply without registration
Skyrocket your
engagament now!
Try MoonBack now!
Discover MoonBack full experience with Apollo subscription
before subscribing or switching to MERCURY for free forever.