📝 Technical data
ONE-TO-ONE
From person to person
Target
Customer
Teammate.
Person with whom you have already established previous contact.
Mission
"Promote an environment of closeness and affiliation revolving around a specific date"
Increase third-party recognition of your recipient.
Follow these four steps
and you can do it too
1
Record a MoonBack
Press play and discover the content of each of the sections that we recommend you to include in your MoonBack.
💬
Message and Smart Actions
Example 1
Kiko, 7 years working together deserves a song! Congratulations!
LISTEN TO YOUR SONG
Example 2
Ester, on your 40th birthday this is my congratulations... and my present!
SURPRISE!
MAKE IT PERSONAL
Include the name of your recipient and other personal references.
Show that it is something you have prepared exclusively for that person.
MAKE IT AMAZING
Don't tell in your message what you already explain in your MoonBack.
Add some interest and the chances that your MoonBack will be reproduced will increase.
MAKE IT USEFUL
Paste in the message the link to your gift.
MoonBack will convert countless links and third-party services into a button for you. For example, this gift in the form of a Singerfy song.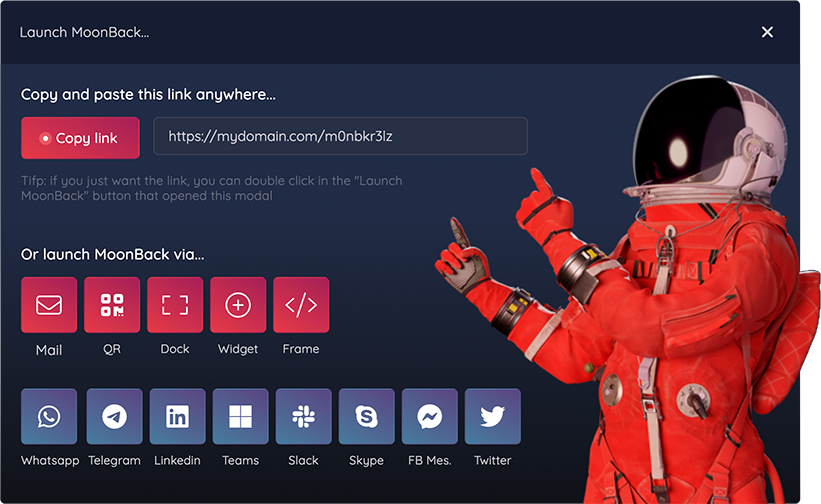 CHANNELS
Physical or virtual
Launch your MoonBack with your digital gift. If so, go for WhatsApp, Telegram, LinkedIn, Teams, or Slack and avoid email.
If you prefer, include in your physical gift your MoonBack in the form of a QR. Imagine the face of your recipient when they see you on their phone with their gift!
WHEN
The sooner the better... but don't obsess about it.
If you get ahead of other people's congratulation messages that's great, but don't get obsessed. Congratulating with MoonBack will get you a WOW. That's guaranteed!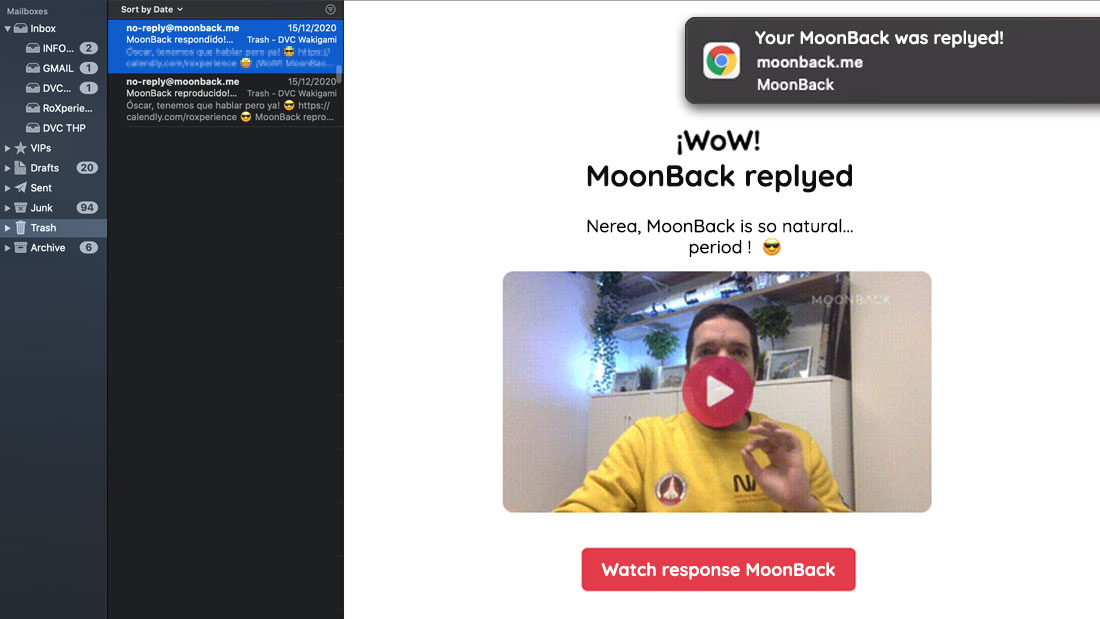 NOTICE
Push notifications, e-mail and activity log
Forget about reloading or actively tracking. You will be instantly notified whenever your recipient interacts with your MoonBack.
SMART VIEW
All the answers to your MoonBack and others in one place...
If you wish, with MoonBack you will be able to give public access to the previous evaluations that have been made to you, and even let others react to them with emoticons and share them.
You will congratulate those you care about most on their birthday, anniversary or any other memorable occasion
😲
Fostering closeness and affiliation with your recipient. This is about people...
😮
Turning an anniversary or any special occasion into an opportunity to share a memorable experience.
😵
Boosting uniqueness and avoiding massive and "cheap" gif format greetings
Key features
used for this example
Reply without registration
Skyrocket your
engagament now!
Try MoonBack now!
Discover MoonBack full experience with Apollo subscription
before subscribing or switching to MERCURY for free forever.