📝 Datasheet
ONE-TO-ONE
From person to person
ONE-TO-GROUP
From person to a group of people with one or more characteristics in common.
Recipient
Customer who has already enjoyed your product, service, experience...
Employee of an organization
Fan
Mission
Simplify the recollection of audiovisual testimonies
"Boost security and confidence of potential customers or employees."
"Boost the affiliation and recognition of customers and employees who share their opinions"
Gather insightful and real information with which to improve your current proposals.
Follow these four steps
and you can do it too!
1
Create MoonBack
Click play and discover the content of each of the sections that we recommend you to include in your MoonBack.
Example 1
Did you like it? I'm sure that with your help we'll make it even better...
Example 2
Pablo, if you enjoyed your stay, let me tell you the best is yet to come...
MAKE IT PERSONAL
Include your recipient's name and other personal references.
Let it show that it's something you've prepared exclusively for that person.
MAKE IT AMAZING
Don't tell in your message what you already explain in your MoonBack.
Add some intrigue and the chances of your MoonBack being played will increase.
MAKE IT USEFUL
Beware of rewards...
The best reward is recognition from your customers or teammates. Avoid "convenience ratings" because they are neither authentic nor real.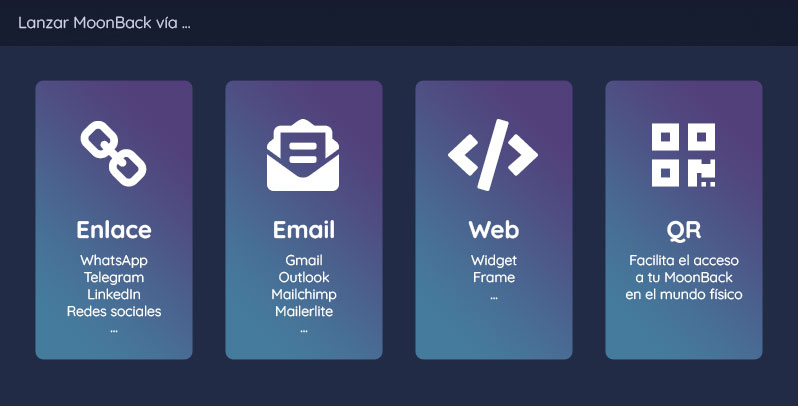 CHANNELS
Avoid using the e-mail
You will achieve better results using channels such as:

In your website via Smart Dock
WHEN
Don't wait until the last day...
Don't delay any longer or you risk losing vital information.
3
Everything under control
NOTICE
Push notifications, e-mail and activity log
Forget about reloading or actively tracking. You will be instantly notified whenever your recipient interacts with your MoonBack.
SMART VIEW
Your testimonials in one place...
If you wish, with MoonBack you will be able to give public access to the previous evaluations that have been made to you, and even let others react to them with emoticons and share them.
You will collect third-party reviews and testimonials.
😮
Boost security and confidence in future customers or employees.
😲
Boosting affiliation, self-recognition, and recognition of the participants.
😵
Gathering vital information with which to improve your proposal.
Key Features
used in this use case
Reply without registration
We'd love to show you how to gather assessments and testimonials
create a personal MoonBack for yourself..
Personal, not customized.
Show me with a MoonBack
Discover MoonBack in full with an Apollo accountbefore subscribing or switching to MERCURY for good.