📝 Datasheet
ONE-TO-ONE
From person to person
Recipient
Someone to whom you want to send a proposal
commercial offer, invitation to an event, job application, hiring proposal, elevator pitch, menu...
Mission
Boost your customer's confidence by making it easy to understand the key points of your proposal.
Promote an environment of closeness and affiliation.
Boost your potential client's self-recognition and recognition with a personal proposal.
Follow these four steps
and you can do it too!
1
Create MoonBack
Click play and discover the content of each of the sections that we recommend you to include in your MoonBack.
Example 1
Alejandro, three reasons why you won't be able to say no 🤓
Accept proposal
Example 2
Alejandro, with this proposal it is time to boost your company's competitive advantage.
MAKE IT PERSONAL
Include your recipient's name and other personal references.
Let it show that it's something you've prepared exclusively for that person.
MAKE IT AMAZING
Don't tell in your message what you already explain in your MoonBack.
Add some intrigue and the chances of your MoonBack being played will increase.
MAKE IT USEFUL
Paste one or more links from where to accept the proposal and get more information.
MoonBack detects and converts countless links and third-party services into action buttons for you.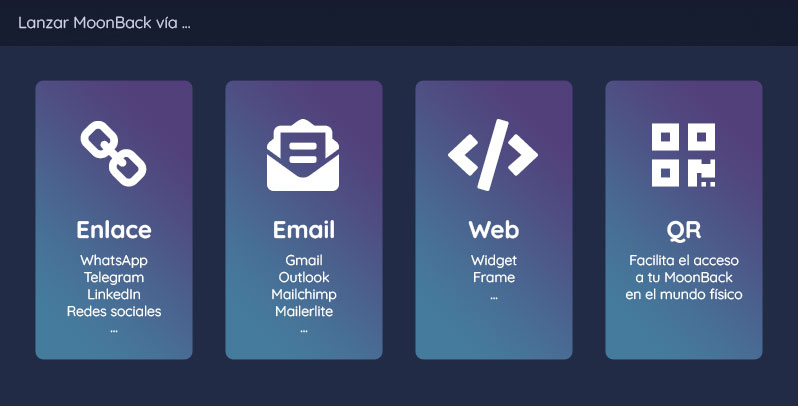 CHANNELS
Avoid using the e-mail
You will achieve better results using channels such as:

In your website via Smart Dock
WHEN
Whenever you want… using an either physical or digital format.
Keep in mind that you can export your MoonBack to a QR code and include it in a document or any printed material. In this way, in addition to the information, they will be able to listen to you highlighting the key points and giving it your personal touch.
3
Everything under control
NOTICE
Push notifications, e-mail and activity log
Forget about reloading or actively tracking. You will be instantly notified whenever your recipient interacts with your MoonBack.
ADVISE
And if there's no access...
Re-launch your MoonBack through a different channel. If you use email it is possible that it may have gone unnoticed.
You will personally present a proposal
😮
Focusing the key points and rewards of the proposal on your client's needs.
😵
Asynchronously and without interruption or inconvenience.
😲
Keeping control at all times of how your customer has interacted with your MoonBack.
Key Features
used in this use case
Reply without registration
We'd love to show you how to make a proposal
create a personal MoonBack for yourself..
Personal, not customized.
Show me with a MoonBack
Discover MoonBack in full with an Apollo accountbefore subscribing or switching to MERCURY for good.